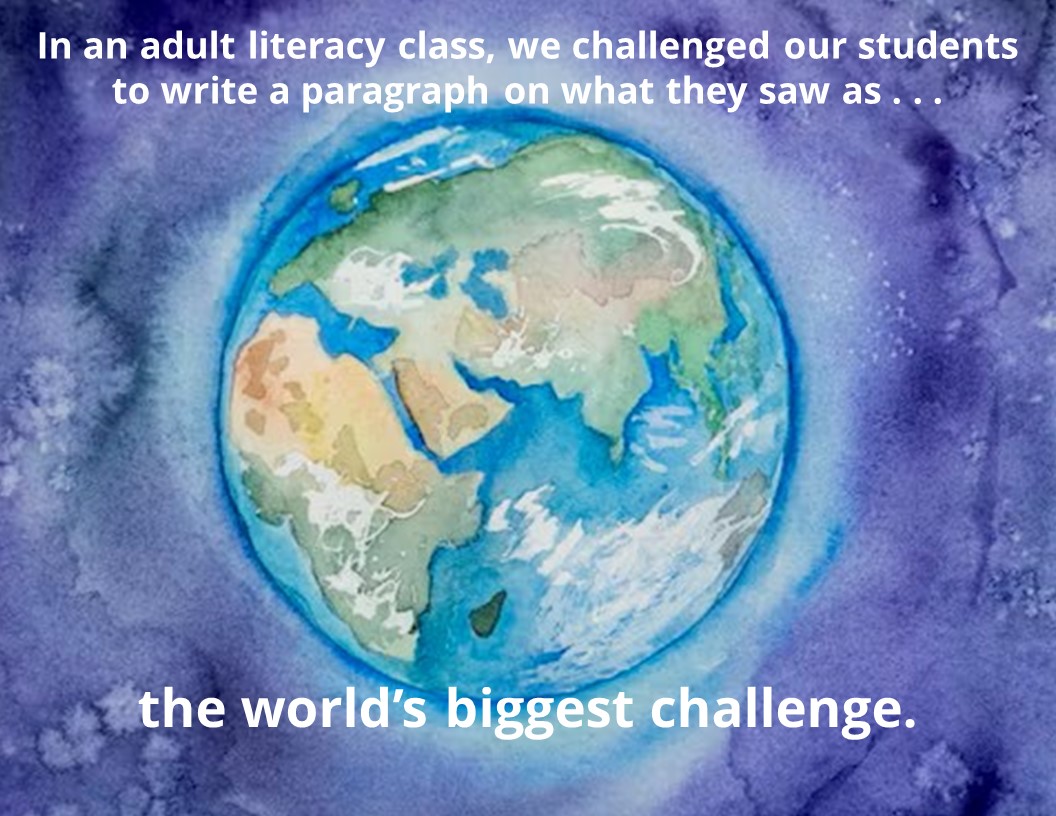 The Assignment
In our adult literacy/health literacy classes, our volunteer tutors strive to get the most from our students, pushing them to the next level as they pursue the gift of literacy.  For example, in one of our classes this summer, we asked students to write a paragraph on what they thought was the world's biggest challenge. The paragraph had to include these elements: a hook, transition sentence, topic sentence, a body with good organization and sentence flow, and a concluding sentence.
If you have a good understanding of writing, this might not seem like a difficult task for you. For those adults learning English for the first time or improving their English language skills, this assignment was a major undertaking. Their accomplishments were inspirational.
Here are the world's biggest challenges through the eyes of our students. They have been edited by the students only. These paragraphs are 100% our students narrative voice.
Student Thoughts on the World's Biggest Challenges
Health is one of the greatest challenge in the world:
 Health is an essential part of our life. We have to take care our health. The person who are working in health care like doctors, nurses, surgeons, and midwives have dedicated their lives to save people, and help us stay healthy and safe from diseases by taking care , we have to appreciate them , and honor them. Health care is very important .
Starvation
Nowadays, the global food crisis is one of the biggest world challenges. In my opinion, there are three reasons leading to starvation: First, conflicts are a significant cause because the farmers have to be soldiers, and farms become battlefields. What happens in Ukraine is a good example. Second, climate change destroys lives and crops and undermines people's ability to feed themselves. For example, rising sea levels threaten food security in some countries because many rice fields disappeared. Third, higher fertilizer prices affect agriculture leading to the production of maize, rice, soybean, and wheat falling. To prevent starvation all countries should commit to solving the dispute peacefully, and have a timeline for changing fossil energy to green energy. In addition, we should stop food waste habits.
The Hazards of Climate Change

 You have felt the recent unusual weather! Climate change threatens human health and development. At present, climate change is the greatest challenge facing the world. Climate change is having unprecedented impacts across the global. First, extreme weather causes catastrophic events. Then, rising sea level threaten people's lives. Next, changing the ecological environment leads to the extinction of some species. Finally, climate change increases the risk of some diseases as well as infectious diseases. In the future, we hope that people will be less harmed by climate change.
The Climate Change
 Do you know what is the world's biggest challenge? In my opinion, climate change is the biggest. Climate change is a change in the Earth's climate that are warming the atmosphere, ocean, and land. The cause of global warming is the greenhouse effect. Many greenhouse gases occur naturally in the atmosphere, and human activities increase their concentration. There are many causes leading to global warming. First, burning coal, oil, and gas. Then, cutting down forest. Last, increasing farming livestock. Finally, fertilizers containing nitrogen. The results of global warming are significant and affect many aspects of our lives, like rising sea levels, severe wildfires, ect. To save our world, we need action to fight climate change now. Every country should have a plan for reducing it's consumption of fossil fuels, reforestation, and not increasing livestock.
 Losing Common Sense 
(Part One)
Are you familiar with these kind of stories? A lady was walking her dog without leash in Time -square New York, A man walked by and told her that she should put leash on her dog, She immediately called the police, said this guy insulted her.  Another one is two passengers were fighting on the airplane, The pilot has to take a forced landing after departure. Such things happened every day and every where in our modern society , Doesn't this tell us that we're losing our common sense,  and isn't that a biggest issue in our world now ?  It's true we can send people to Mars;  The internet is making the world like a village;  Increasing knowledge changed our life much better than ever since; But common sense, moral stands and human self-identity  are being taken away from our society, Which are the foundation of our society, without these we will get confused, divided and lost. The security will become a chaos. Like the lady if she has common sense she should've put her dog on the leash they left their house, Same as the two passengers they should've know it was very dangerous and shameful to fight on an airplane. Freedom doesn't mean everybody has right to their own way. 
Losing Common Sense 
(Part Two)
What if my way isn't your way, then fight a way and the stronger one will take over the weak one? What if  a boy thinks he is girl then he can use girl's bathroom, here I am girl I am so afraid to meet a boy in our girl's bathroom? So the girl should lose her right because of the school made her do it which is completely against common sense. If I love my dog then marry my dog, How does it make sense? So Freedom should have principles which also were called moral law or common sense. It's really sad that you even can't speak out for it , Do you think our world is facing a very heartbreaking challenge? If so, Let's keep our common sense and stay away from the confusion, Stand for our moral from our conscience for ourselves and our children!
Great challenges in the world.
 Because lawlessness will multiply, the love of many will grow cold.     (Matthew 24:12)
    So there are many challenges, but the biggest challenge for me is violence and lack of love!
     It's sad to see how violence grows around the world, violence everywhere schools, homes, streets.
     Where are we going without Love, without empathy for each other?
Inflation have a good and bad effects:
Inflation have a good and bad effects:
The good side:
- it encourages consumer spending which is good for the economy.investments like ygo
The bad side:
- Your money buys less than it did before
- Interest rates go up, which lead to making borrowing more expensive
- Some investments like cash and certificate deposit lose value .
Inflation is the biggest challenge for individuals businesses and government because it was affecting our daily life and our economy and still continue overtime .