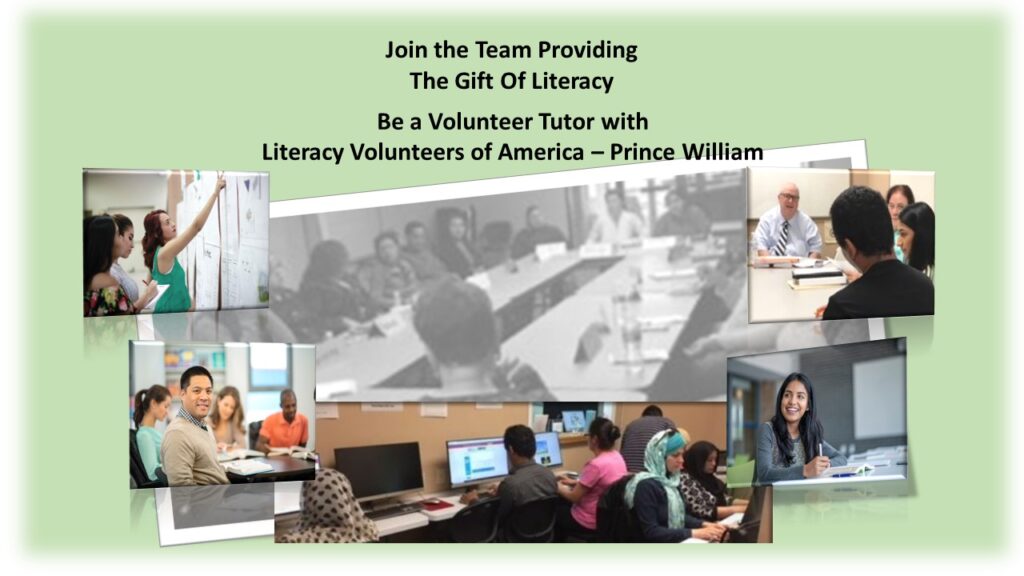 Literacy Volunteers of America – Prince William (LVA-PW) is here for one reason – to help low-literacy students improve their English writing, reading, and speaking skills. These are life changing skills that help our students realize their personal goals and help them to participate, contribute, and prosper in the very communities in which they live. No words can describe the positive nature of your work as a Volunteer Tutor at LVA-PW.
As a Volunteer Tutor with LVA-PW, you lead the way. As an instructor, either on-line, on-site or both, you will change the lives for so many low-literacy adult residents of Prince William County. Go to Be A Learner for information on the types of classes offered to our Learners. You could be a Tutor in any one of these classes.
Tutor-time . . . What kind of a commitment is necessary?
To be trained and certified as a Volunteer Tutor with LVA-PW, you must attend 8 hours of on-line instruction.
Upon completion of the training, you will be assigned to a class and your tutor experience with LVA-PW will begin. We typically assign two tutors per class, so you won't be alone. In fact, an experienced tutor trainer will be on-hand at first and observe how you are doing for at least two hours. This is a continuation of your tutor training experience. After the two hours of class observation, you will officially become a certified Volunteer Tutor with LVA-PW.
When you become a tutor with LVA-PW, our hope is that you can commit at least 2-hours weekly to a class setting, either on-line or in-person. We understand that may not always be possible and that's certainly OK with us. Just let us know in advance that you can't attend a class and we will find a substitute tutor to fill in.
Once you are assigned a class, we take care of all the details. We provide the students, assessments (if required), attendance sheets, tutor materials, and everything else that's needed. We even handle sending the Zoom links for on-line instruction to you and all your students as well. We are with you every step of the way!
It's your time, it's your commitment. Keep in mind, for every hour you can provide to a low literacy adult student at LVA-PW, you help that student move one step closer to having the self-confidence necessary for them to prosper and contribute to the very communities in which they live.
Let's get started
Fill out the Registration Form below on this page. Email your application to: lvapw@lvapw.org or call 703-670-5702 for more information. We will be in touch.
Previous tutoring experience is not required; we will train you.
Join us as a Volunteer Tutor Today.
Take the first step to providing the Gift of Literacy